FAQ
Are Made To Order products more expensive?"
No, Garden Envi products are not more expensive.
We offer the best price and the highest quality!
Our price includes material selection and delivery.
We invite you to cost compare with delivery included, our prices are unbeatable!
Jeff Stephens the owner and carpenter at Garden Envi will provide you with a
FREE SITE INSPECTION and QUOTE.
What's the best way to get the most accurate quote?
Provide your maximum or estimated budget.
If you provide your budget we can get you the most accurate quote.
Many of our luxury clients want premium timber used and complex timber features added; however if different material is selected and design is simplified this can drastically affect the price while still getting a similar looking product.
We need you to tell us what you want so that we can price it properly to fit within your estimated budget.
Garden Envi specializes in individually pricing each product specifically for you.
Are there any hidden or extra costs?
No, Garden Envi quotes all products individually so that there are no additional costs!
Site inspections visits and quotes are offered for FREE.
All of our friends have been amazed at the transformation the Cabana has made to our home, it is an unqualified success. Thanks again for your passion and craftsmanship in putting this together for us, it was a pleasure working and dealing with you.
Most products are delivered and do not require cutting or manufacturing on site.
Products are delivered in 5-10 days or 10-14 days for larger projects.
Delivery, scheduling and confirmation will be included in your quote.
From the moment I contacted Jeff from "Garden Envi" I was put at ease. I had a dream and Jeff was positive and enthusiastic about helping me create it. Much of his preparation was done off site which eliminated lengthy disruption to the family home.
What makes Garden Envi different?
Do not limit yourself to per-fabricated styles – Order what you want!
Each product is quoted and designed specifically for you!
All products are individual, bring us your ideas, sketches or pictures and we build exactly what you want.
All products are handcrafted with expert joinery.
Carpentry experience you can count on!
25+ years of experience.
How to order a Made To Order product?
Call 0419 848 477 to discuss your ideas and email us your pictures or sketch ideas.
Setup Site Inspection meeting to review design options and the proposed location.
When the design is finalized a quote will be sent.
Approval of quote and payment of deposit.
Delivery within 5-10 or 10-14 days after your scheduled start date.
Payment is required.
Life-long consultation.
The gazebo you built is a work of art! Thanks so much!
What pre-made items are available for sale right now?
Almost all of our products are made to order.
Sometimes we have display items or garden features that are available.
Our display items are priced to sell – way below retail price.
Book an appointment 0419 848 477 to view the amazing deals!
All of our finished products are listed on our Products page and on the individual products pages.
Can we select the type of building products used?
Yes, we recommend it. You can select materials to refine your budget and get the best price.
Would you like to match features in your house? Match timber features already used in house or yard? Yes, we will design to match it!
Not sure what materials to select? Provide your budget and Jeff will review the different timber prices and provide you the best value and product available on the market.
Are the buildings assembled as kits?
Garden Envi's products are manufactured in panels for easy assembly.
Every product is setup for easy transport, delivery and easy assembly.
In some larger projects onsite construction will be required; we strive to build as much as possible in our workshop for easy assembly and minimal onsite construction.
We will always advise you if onsite construction will be required.
Easy Assembly – In a few short hours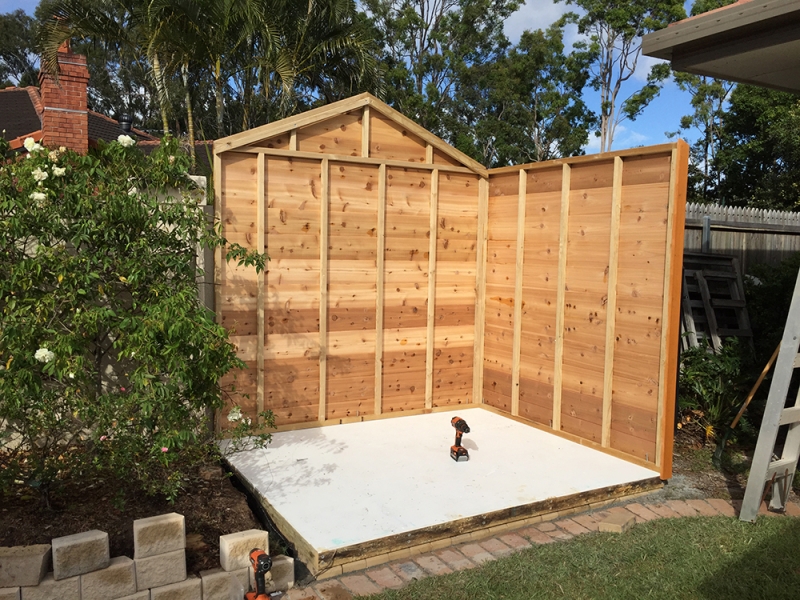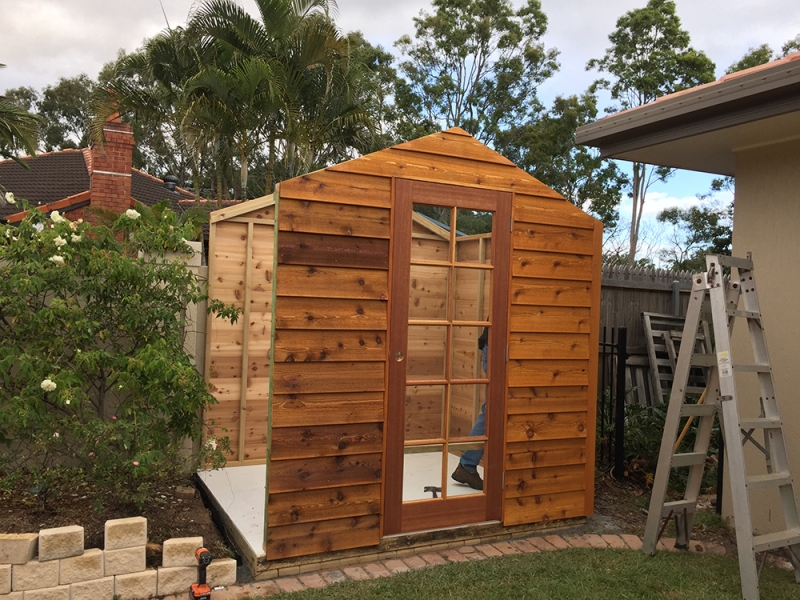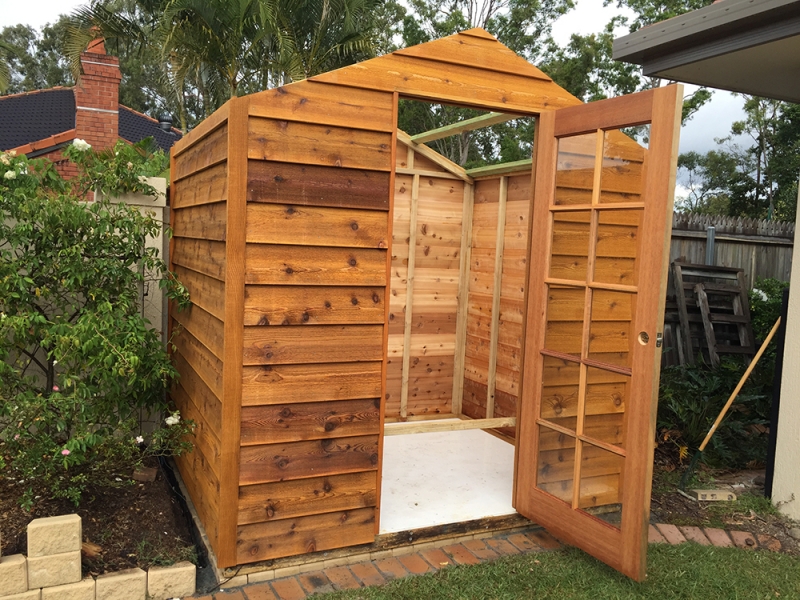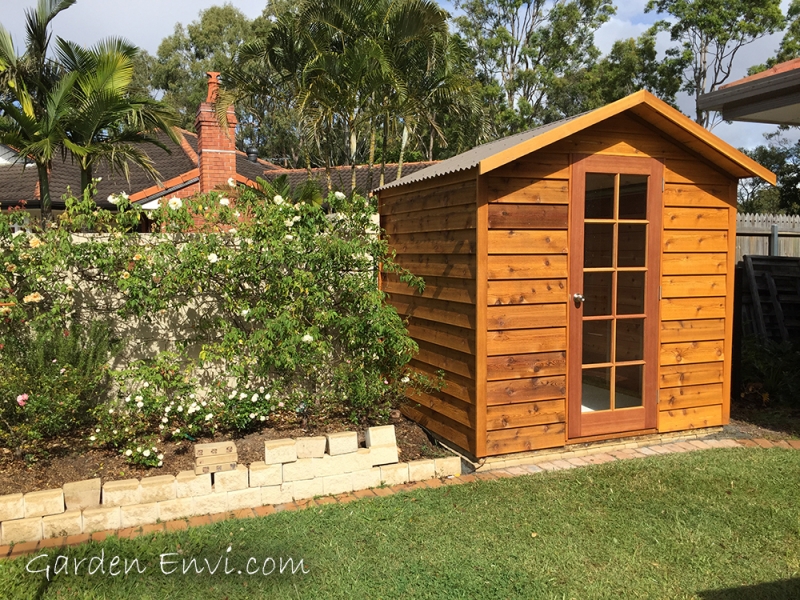 Are the cubby houses built with child safe material?
Do I need to prepare the site?
Yes, you will need to select and prepare the site for your building.
It is best to ensure a level surface is prepared for accurate assembly of the building.
Ask for options, not all sites will require a cement pad installation.
Most garden sheds and studios do not require a concrete slab and this can be a great savings. Some Cubby Houses and Garden Sheds can be put directly on the ground or on stumps/piers.
You may want to install a deck or lay pavers.
At the site visit we can recommend the best options for your particular project.
Do you need council approval? – This is one of the most asked questions.
Does Garden Envi have a showroom?
No we do not have a showroom because all products are made to order.
We have a small amount of display items.
Many many hours go into our display items.
They are priced to sell.  Amazing value for these treasures.
Call us at 041984877 to make an appointment for site inspection or come view the display items at our workshop in Rochedale.
How can I pay?
We accept an array of payment methods.
Direct Depost
Cash
Credit Card (via PayPal)
We can discuss payment options with you and can generate special payment options when required.
We do not offer layby or interest fee payment options.