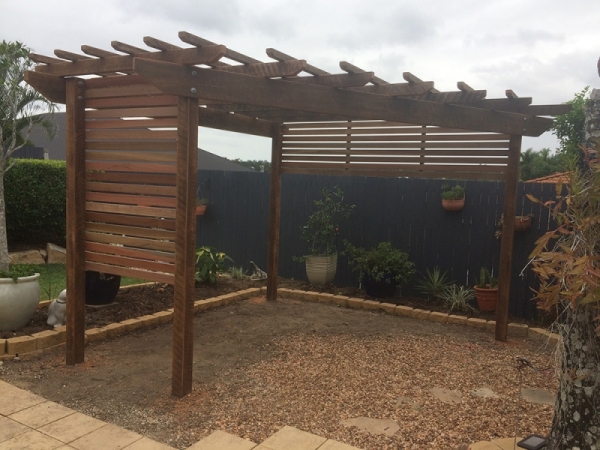 Trapezoid Hardwood Pergola – SOLD
3000 x 3600 x 1200 front mm
This distressed Hardwood Timber Pergola has been set into the outdoor entertainment area for this residence in Sinnamon Park, QLD.
The ACQ treated Hardwood timber has been distressed for a rustic appearance and the client will be finishing the pergola by painting it themselves to match the color scheme of their outdoor entertainment theme.
The trapezoid shape has been selected to compliment the placement of the pergola and the screening set for privacy. Also shown in the photos is the pergola without screening as it looks quite stunning as well.
Features:
ACQ Treated Harwood Posts, Rafters,
Perlin and Battens
Posts concreted in ground
Trapazoid Shape to compliment yard
Kwila Screening on front and back
All fixings galvanized
Email Enquiry