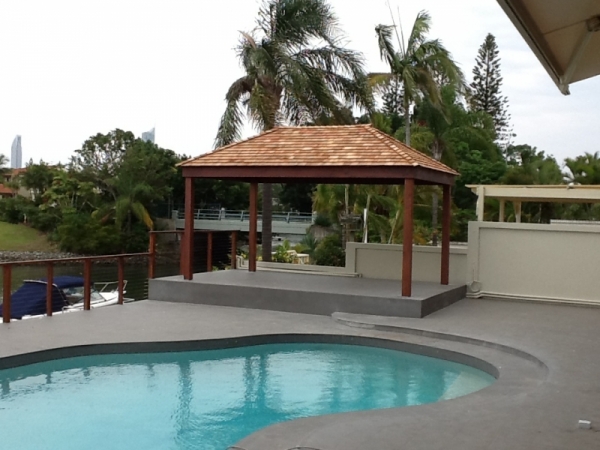 Hardwood Kwila Gazebo – SOLD
3000 x 5000 mm
This beautiful Kwila Gazebo was custom ordered to fit into the raised area near the pool. High quality hand crafted carpentry joinery techniques are utilized to create all our projects at Garden Envi and can be seen in this project in particular with all hidden fixings, hidden post brackets and expert joinery.
"The gazebo you built is a work of art! Thanks so much!"
All galvanized fixings have been plugged and buttoned so all you see is the high quality timber joinery, this method of joinery and fixing provides a remarkable high quality finished product. Custom made hidden post plates were added to attach the posts through the tile into the concrete.
This gazebo was ordered in a Kwila timber to match the other Kwila timber features used in this residence at the Isle of Capri on the Gold Coast, QLD.
Features:
140 x 140 mm Kwila Posts
Kwila Beams, Rafters and Battens
Custom Made Galvanized Dipped
Internal Post Plates
Blue Label Premium
Western Red Cedar Shingles
All galvanized fixings
All hidden fixings