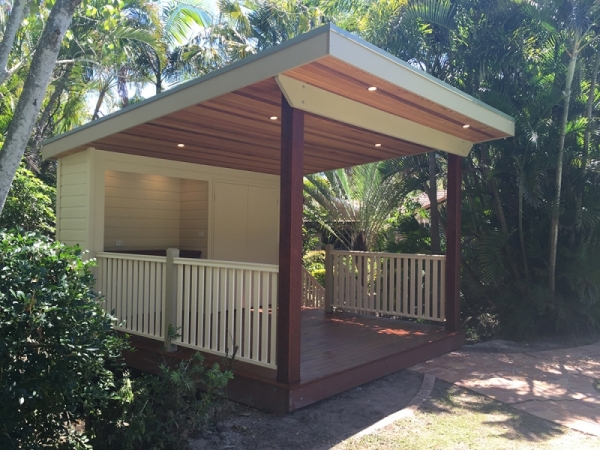 Pine Skillion Tennis Court Cabana – SOLD
3600 x 4400 mm with overhang
This skillion roofed cabana features a raised Kwila deck with fully sided back wall with set-in recycled hardwood benchtop and cupboard framed in pine and lined with plywood with cupboard doors. Set just behind the pool and overlooking the tennis court this cabana creates a lovely additional entertainment area for this residence in Chandler QLD. Co-ordination with the electrician to assist with the installation of lighting and outlets have been included in this project.
Features:
100 x 100 mm hardwood posts at the back for raised deck
150 x 150 mm appearance grade hardwood posts at the front
Post concreted into the ground
Skillion Colorbond roof
H3 Treated Pine Framing
Special ordered to length cedar ceiling will all hidden fixings
Chamfer Pine siding outside and inside walls
Recycled Australian Hardwood Benchtop
Pine framed and plywood lined storage cupboard
Kwila stairs, fully routered with all hidden fixings
All galvanized fixings
Fully filled, painted and oil stained

Email Enquiry
Testimonial
We interviewed several firms when assessing how to achieve a Gazebo that would add to the ambiance of our entertainment area. Right from the first meeting, Jeff's empathy for his product and how it fits into its surrounds and his understanding of what we wanted to achieve was spot on. It was an easy choice for us. The finished product then exceeded our expectations and Jeff's love of what he does is evident in every part of our Gazebo. It is now proudly the center piece of our entertainment area. A picture says a thousand words and I hope Jeff has uploaded some shots of our project.
Thank you Jeff, there are still some professional tradespeople left in the world who take pride in their work. – Phil Smart